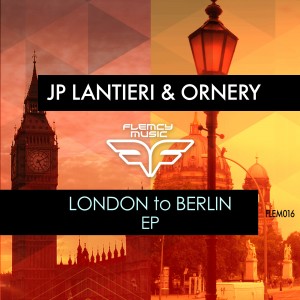 JP Lantieri & Ornery – 'London To Berlin' EP on Flemcy Music
When Flemcy owner JP Lantieri met Ornery in Amsterdam during ADE a little more than one year ago, little did he know that this encounter would have launched Ornery's fast moving career.
It came as a natural development that these two guys decided to create something together. So JP Lantieri flew from his London base to Ornery's Berlin base, and voila, a quite deep techno with a touch of progressive "London To Berlin" was born, soon accompanied by a collection of varied (very varied) and tasteful remixes.
Tracklisting:
JP Lantieri, Ornery – London To Berlin (Original Mix)
JP Lantieri, Ornery – London To Berlin (Ornery Remix)
JP Lantieri, Ornery – London To Berlin (JP Lantieri Remix)
JP Lantieri, Ornery – London To Berlin (Rollright Knights Remix)
JP Lantieri, Ornery – London To Berlin (Blend Bold Remix)
JP Lantieri, Ornery – London To Berlin (Gaz Faktory Remix)
JP Lantieri, Ornery – London To Berlin (Three Note Soup Remix)
Get it HERE
or listen to it here
Connect with JP Lantieri:
https://www.facebook.com/jplantieri
https://twitter.com/jplantieri
Connect with Ornery:
https://www.facebook.com/ornerymusic
https://www.twitter.com/ornerymusic